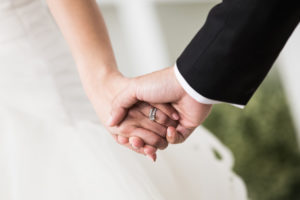 Marriage is a conjugal bond between two people, accepted and consolidated through certain rights, as well as legal, religious or moral norms, that is recognized by law as a family.
The matrimonial union establishes rights and obligations between the spouses, has its own way of being, which can and should be regulated by the legal system, but is not created or defined by the laws. The matrimonial norms are linked to the reproduction and filiation of the children, according to the rules of the current kinship system. Marriage is often closely related to the family and in some cases constitutes its core.
Foreigners in Spain practice the rights and freedoms recognized in the Spanish Constitution in the terms established in the International Treaties, under conditions of equality with Spaniards.
The rules relating to the fundamental rights of foreigners will be interpreted in accordance with the Universal Declaration of Human Rights and with international treaties and agreements on the same matters in force in Spain, without the profession of religious beliefs or ideological or cultural convictions.
For foreigners to get married in Spain, it is necessary to provide following documantation:
– Birth certificate of both;
– Certificate of civil status (in case of being divorced, marriage certificate with registration of divorce; in case of being a widower, certificate of the first marriage and death certificate of the spouse);
– Census certificate of both;
– Photocopy of passport or residence card (or photocopy of DNI in the case of Spanish citizens);
– Civil Marriage application signed by both.
Documents that are not in Spanish must be legalized with the Apostille (countries that have signed the Hague Convention) and translated into Spanish by a sworn translator registered at the Ministry of Foreign Affairs of Spain.
Our firm can help you as with legal translation as with presentation of the documentation to the Civil Registry, so that you do not have to worry about anything.