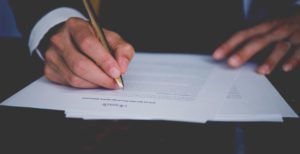 We are here to help in drafting contracts of any kind, always thinking about your needs.
Surely, if you are thinking to make a simple contract with someone, there is no need to go to a lawyer. But how many times we've heard: "If I have had it done properly from the beginning"; "If I had put this clause," "If I had written it differently."
On many occasions we fall into the temptation of using models or ready-made forms that can be found on the internet with a simple search on "Google", but we must be careful, because not all contracts will serve us in our specific case and sometimes it can also occur, that they are not updated to the latest legislative reform, so that on many occasions we find contracts signed with clauses that lack effectiveness.
Our job is to prevent and anticipate the resolution of future problems and thus help you avoid cumbersome litigation, or if they occurs, you are the party who will come out of them the best.
We offer you advice on any civil contract, whether you are the party who draws up the contract or the party that receives it, we recommend that you never sign a contract without first reviewing it point by point, but even better, if you do so with the advice of a lawyer.
Our fees for this type of advice are not high, so it's something within the reach of any pocket. Please ask us for more information.